HISTORY was made last weekend when 41 teams competing in the McDonald's Great Wheelbarrow Race crossed the finish line at Mareeba after three grueling days pushing a barrow 140km from Chillagoe to Mareeba.
Over 350 competitors took part in one of North Queensland's biggest events and raised over $195,000 for local, national and international charities.
Cr Nipper Brown said the event was a great success and the decision to turn the race around was overwhelming received by competitors and the community.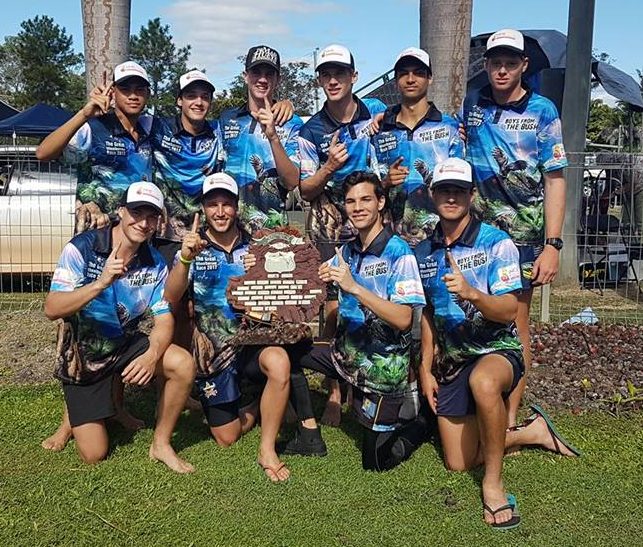 Boys From The Bush took home the trophy for the second year in a row. PHOTO: Tablelands Advertiser
Results for 2017:
Total fundraising amount: $195, 289
Solo Male: Burro Blanco – Rob Miller (17.17.44)
Solo Female: CrossFit HBZ 4880 – Sonya Alba-Miller (17.48.17)
Duo: 2 Fast 2 Furious – Bradley Newlands and Zane Singleton (11.19.40)
Ladies: MILF for Muscles (9.30.22)
Mens: The Boys from the Bush (6.24.22)
Mixed: IndiStructables (9.44.01)
Over 35s: 72ers (9.16.37)
Over 55s: Dad's Army (13.00.24)
School: Nudgee College Brisbane (6.40.38)
Service: QFES Blazers: (8.12.13)
Social: Run in our Stocking (9.13.24)
Team Spirit: Sianna's Soldiers and Ikin's Angels
Talent Quest: Rick Heaton – Solo Veteran
Charity: Wheelie Mad Runners
Best Theme: SES