Have your say on the review and update of the Queensland Principal Cycle Network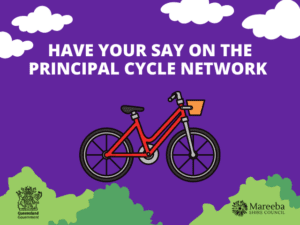 Mareeba Shire Council is working with the Department of Transport and Main Roads (TMR) to review and update the Principal Cycle Network (PCN) for Mareeba Shire.
We invite you to provide feedback about the PCN in your local area or in other locations across Queensland.
Your comments and feedback are important and will help Mareeba Shire Council and TMR ensure the PCN encourages Queenslanders to make the choice to ride in their communities in the future.
Visit TMR's website to read more about the PCN, the project and how you can have your say.
Consultation will remain open until 31 August 2022.