Wastewater Treatment Services
Mareeba Shire Council provides wastewater treatment services to the townships of Mareeba and Kuranda to prevent public health issues and to protect the health of our waterways.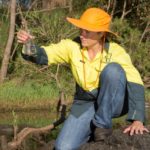 Our wastewater treatment plants receive wastewater from residential dwellings, commercial and industrial operators, where the wastewater is mostly made up of water but also contains anything that is washed down kitchen sinks, toilets and into the sewerage system. Wastewater can contain food scraps, dirt, detergent and human waste.
Our treatment plants are designed to remove the contaminants in these wastes like nitrogen and phosphorus that can pollute our waterways and minimise the human exposure to diseases like cholera.  Biological and chemical treatment process are used to clean the wastewater so that it can be discharged to the environment.
That is why it is important to think about what we wash down into our sewer system because it can kill the bacteria and microbes that are cleaning our wastewater.
Kuranda Wastewater Treatment Plant, Arara Street Kuranda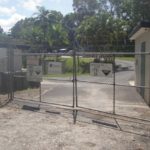 The Kuranda Wastewater Treatment Plant (WWTP) is an activated sludge plant which utilises the processes of aeration and sludge settlement to produce a high quality effluent.
Wastewater is received at the treatment plant via the Kuranda sewerage network.  The influent (untreated wastewater) enters the Inlet Works where the solid and liquid streams are separated.
The wastewater is then treated in the Bio Reactor to remove organic matter (suspended solids and BOD, phosphorus and nitrogen) from the influent wastewater using biological and chemical means.  The products of this process are treated effluent, waste activated sludge and nitrogen gas.
The effluent (treated wastewater) from the Bio Reactor is then settled in the Clarifier, pH adjusted, disinfected and the chlorine removed prior to release to Jumrum Creek (a tributary of the Barron River).
Bacteria and microbes are the primary treatment process at this treatment plant and as such their health and effectiveness is diligently managed by our Wastewater Operators. Our Operators manage the bacterial treatment in a number of ways including water quality monitoring, returning and wasting sludges, and maintaining optimal physical and chemical conditions.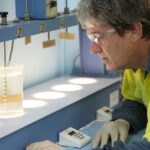 After successfully receiving a subsidy under the Queensland Government's Local Government Grants and Subsidy Program in 2015/16, Mareeba Shire Council has upgraded its sludge management system.  Council was able to upgrade from the existing lagoon system to a new belt filter press that dewaters sludge efficiently.  This has reduced our environmental risk and produced an even cleaner effluent.
Mareeba Wastewater Treatment Plant, Hickling Avenue.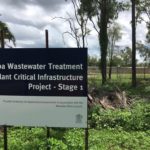 Through the generous grants and subsidies provided by both the State and Federal Governments, Mareeba Shire Council will be commencing the construction of a new Rising Main, Inlet Works and an upgraded Wastewater Treatment Plant in 2016.
These works have provided the much needed critical infrastructure upgrade to the previous Trickle Filter wastewater treatment system and provided a significant environmental outcome for the Mitchell River catchment.
The new treatment process consists of  a 2 staged new Sequence Batch Reactor (SBR) with future capacity to convert to a membrane activated sludge treatment process (MBR).  The bioreactor is initially sized to provide a 12,500 equivalent persons capacity with an average dry weather flow of 3.8ML/day and then in Stage 2, the ultimate 16,000EP capacity (5ML/day) when converted to an MBR.
This major infrastructure project will serve to provide a sustainable wastewater treatment service for the community of Mareeba now and capacity build for the future growth; complimenting the upgrade of the Mareeba Aerodrome and growth within the Mareeba Industrial Estate.
Report an Issue
Please contact Mareeba Shire Council on Phone – 1300 308 461  OR  07 4086 4500 to report an issue with any of Wastewater Treatment Plants, Pump Stations or Manholes etc.