Mareeba Industrial Park – Land  currently available for sale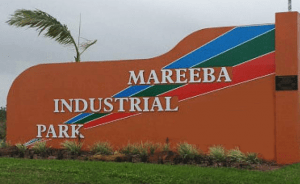 Fully serviced prime industrial land sites are available for sale in the Mareeba Industrial Park. Currently available lots are as follows:
7 Lots x 2,178m² each (approximately 68 metres x 32 metres)
1 Lot x 17,400m² (132 metres x 132 metres – this lot is the equivalent of eight of the smaller 2,178m² lots and can be subdivided to suit specific business requirements)
Four (4) large lots (as shown on the attached layout plan) fronting Effley Street are currently surveyed with areas ranging from 9,400m² to 17,000m². These lots are to be reconfigured and re-surveyed to take account of changes in the alignment of the proposed Mareeba Heavy Vehicle By-pass corridor and will have areas of:
1 x 12,066m²; 1 x 13,194m²; 1 x 23,088m²; 1 x 24,984m²
These four larger lots will be put to public tender in the coming months.
All lots within the Industrial Park are priced for purchase at $56.00 per square metre plus GST.
Mareeba Industrial Park

The Mareeba Industrial Park has a number of attributes which make it the most suitable location for large scale industrial development in Far North Queensland:
an abundant supply of relatively inexpensive, appropriately zoned land which will see over 180 ha of land being progressively developed over the next thirty years
 a secure water supply
able to accommodate all types of industrial activity
centrally located with sealed all weather road access
close to both rail and road transport depots
underground power, water, sewerage and telephone services provided to each lot
business owners can invest and be secure in the knowledge that there are adequate resources to support future growth and expansion opportunities

Development Obligation

As a condition of acquisition, a buyer must submit a development plan for the land they seek to acquire.
The value of the development works must be not less than $35.00 per square metre of land area
If more than one lot is acquired simultaneously, the value of the total development works can be spent on a single lot and not be spread evenly between lots
The works may be comprised of structural improvements, acquisition and installation of plant, or landscaping
The development plan is to be agreed with the Council prior to Council committing to the sale
The development plan forms part of the Contract documentation
Sale of land within the Industrial Park is also conditional on proposed developments being completed, or substantially completed, within a period of 12 months from date of purchase.
For more information please call 1300 308 461 or email info@msc.qld.gov.au